ASCE Los Angeles Section 2023 Awards Event & Officer Installation - September 30, 2023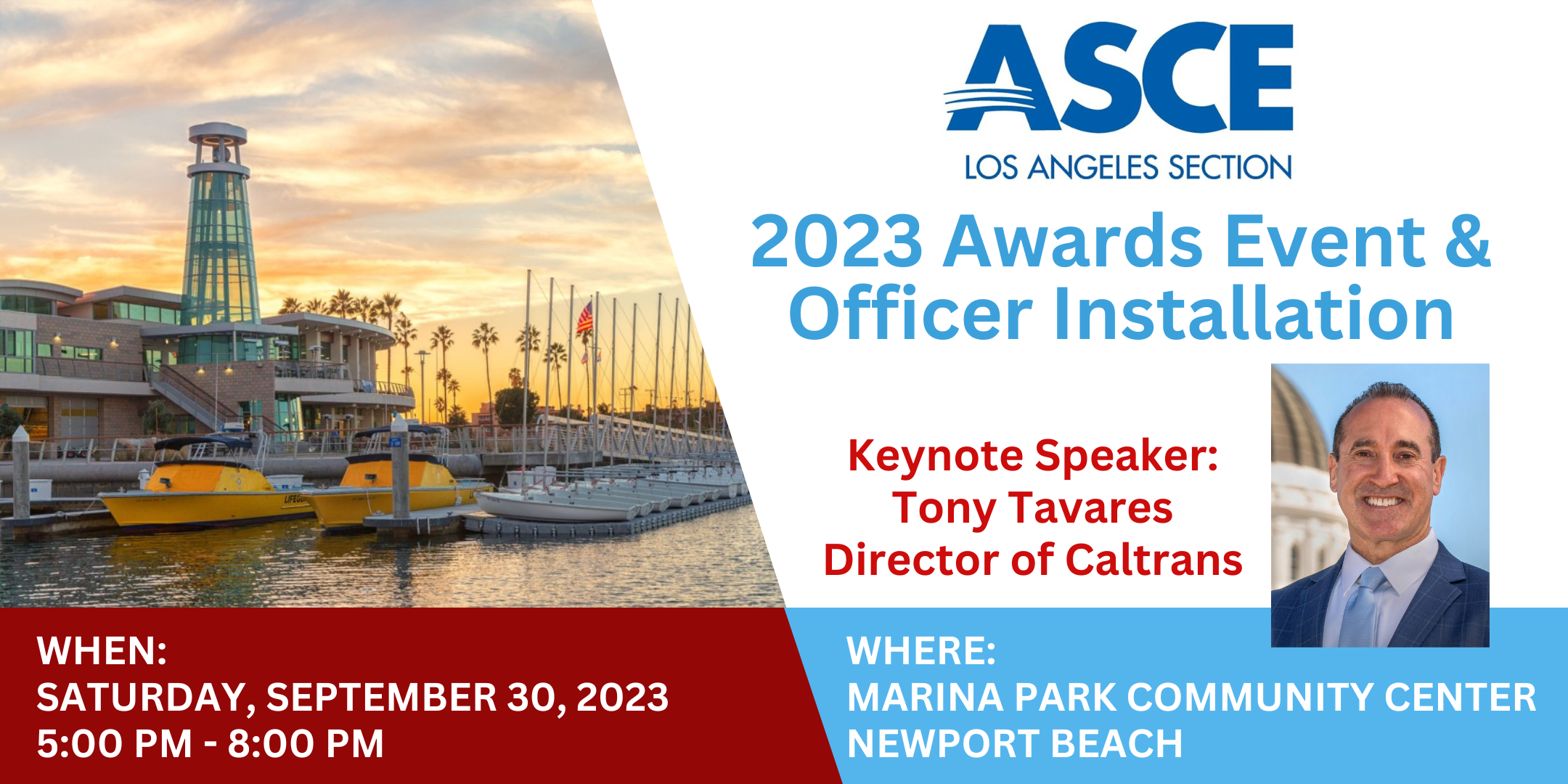 REGISTER OR SPONSOR OUR EVENT AT https://www.eventbrite.com/e/asce-los-angeles-section-2023-awards-officer-installation-tickets-677010666127?aff=oddtdtcreator
---
Welcome from the ASCE Los Angeles Section Board

Welcome to the American Society of Civil Engineers Los Angeles Section (ASCE LA Section) website. We are the second largest in ASCE with over 8,000 members. ASCE LA Section extends from the boundary of San Diego County North to San Luis Obispo, and from the Pacific Ocean to the Nevada Border. ASCE LA Section is the largest Section in National that doesn't cover an entire state. I am honored to serve as the LA Section President.
Whether you're interested in monthly luncheons, golfing, networking in the profession, technical development, K-12 outreach, community service, social events, or sports, we have it all. There is definitely something for you to get involved in!
ASCE's mission is to provide essential value to our members and partners, advance civil engineering, and serve the public good. In carrying out our mission, ASCE advances technology, encourages lifelong learning, promotes professionalism and the profession, develops civil engineer leaders, and advocates infrastructure and environmental stewardship.
The ASCE LA Section has Three Goals this year:
Come together Again – it is vital to collaborate in person
Inspire future generations about civil engineering
Build Engineers' POWER skills – some call soft skills but they are critical for success!
Our Board meetings are held every other month on the first Thursday of the month virtually via Zoom and are open to everyone, if you would like to join. You may also attend to tell us how the Section can best serve you in your professional development. Or if you may have comments or suggestions.
Thank you for your continued support and commitment to ASCE.
The LA Section Board has a great lineup of ASCE events in 2023. Check out the latest Section newsletter, https://conta.cc/3PvLwXc.
Sincerely,
Melissa Barbosa, P.E., M.ASCE
2022 - 2023 President
American Society of Civil Engineers Los Angeles Section
Gayle Stewart, Section Administrator
Mailing Address:
ASCE LA Section
360 E. 1st Street, #992
Tustin, CA 92780
Phone: 714-258-8306

Bi-Monthly Board Meetings
Day: Held on 1st Thursday in February, April, June, August (Board Meeting & Leadership Meeting, typically on a Friday), October, and December.
Time: 6:00 pm – 8:00 pm
October 6, 2022 (In Person) at Vulcan Facility, 31 Rancho Camino Dr., Pomona, CA 91766
December 1, 2022 (Virtual via Zoom)
February 2, 2023 (Virtual via Zoom)
April 6, 2023 (Virutal via Zoom)
June 1, 2023 (Virtual via Zoom)
August 18, 2023 (In Person) Board Meeting & Leadership Meeting; Location TBD
Everyone is welcome!
For the Board Meetings that are held via Zoom, please email Gayle Stewart at gstewart@gsecorp.org for the join link if you would like to attend.