Welcome from the ASCE Los Angeles Section Board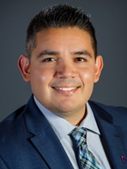 Having returned from the ASCE Convention held in Chicago October 18-21st, I feel INSPIRED to continue to lead efforts as your 2023-24 ASCE LA Section President to support the needs of membership. The entire spectrum of ASCE LA Section members from students to life members were well represented at the Convention. Conversations with attendees from other parts of California, Seattle, St. Louis, Washington DC, Tucson, New York, and even Vienna, Austria were focused on topics such as workforce challenges and solutions, resiliency of existing and future infrastructure, and integrating the internet of things (IoT) in construction.
October also kicked off a new year for the Section's new 2023-24 Section Executive Officers. Joining me this year are:
Ruwanka Purasinghe – President-Elect
Kelsie Anderson – Treasurer
Jorge Vanegas-Moran – Secretary
Melissa Barbosa – Past-President
Although our respective positions did not officially begin until October 1st, we hit the ground running with planning for our annual ASCE Los Angeles Awards & Officer Installation held in Newport Beach on September 30th. By our account, it was great success as we celebrated the accomplishments of many Individual and Project Awards. Several of the award recipients will be major contenders for the Region 9 Awards, and possibly the Opal Awards (the Oscar Awards for civil engineering)! Our keynote speaker, and fellow civil engineer, Caltrans Director Tony Tavares also delivered some insights for the future of the civil engineering profession.
This year, the ASCE LA Section Board of Directors will be focusing on key initiatives including the following:
"Showing Face" – Post-pandemic, our goal is to attend more events in-person throughout our geographic region and to engage more frequently with Branch, Younger Member Forum, Life Member Forum, Student Chapter, and Technical Group leadership to offer support. From San Luis Obispo to Southern San Joaquin Valley to the Inland Empire and all points in between, we aim to see you more this upcoming year.
Hospitality – there is no better way to increase our membership than by inviting your friend and/or fellow colleague to an ASCE meeting or event. An invitation to a Student Chapter, YMF, LMF, Branch, or Section event goes a long way with a genuine and personal "ask". But it doesn't just end there. If there's a welcoming smile from (insert your most hospitable member in your ASCE group here) accompanied with an introduction to an officer or other member, that prospective member is more likely to return.
Strategizing for Years Ahead – the LA Section is also thinking about where we want to be five, ten, 20+ years from now. One example is to be ready for events that require longer lead times such as the ASCE Region 9 California Infrastructure Symposium which we are hosting in 2025. Another example is reaching out to prospective universities to consider creating or expanding their engineering programs to include Civil Engineering. Finally, our Board will also be pursuing strategic partnerships with other professional organizations to leverage our common voice on infrastructure needs.
The ASCE Los Angles Section is also giving a warm welcome to our new ASCE Society and Region 9 leadership. Yaz Emrani, is our incoming ASCE Region 9 Director, John Rogers, ASCE Region 9 Governor for the Los Angeles Area, and Rossana D' Antonio who is continuing her term as ASCE Society Director at Large. The Section would also like to sincerely thank outgoing ASCE Region 9 Director Ken Rosenfield and Director at Large Elizabeth Ruedas for their efforts at the Society Board of Directors.
Finally, please keep an eye out for upcoming events through our weekly "In the Moment" online newsletter.
Share Your Thoughts with Us: Do you have a suggestion, comment, or ideas for the ASCE LA Section? Please submit them to our Section administrator, Gayle Stewart at gstewart@gsecorp.org.
Join us on LinkedIn: ASCE Los Angeles Section on LinkedIn
Kind Regards,
Josue Vaglienty, P.E., M.ASCE (he/his/him)
2023 - 2024 President
American Society of Civil Engineers Los Angeles Section
LinkedIn: www.linkedin.com/in/jvaglienty
Gayle Stewart, Section Administrator
Mailing Address:
ASCE LA Section
360 E. 1st Street, #992
Tustin, CA 92780
Phone: 714-258-8306
Email: gstewart@gsecorp.org

Bi-Monthly Board Meetings
Day: Held on 1st Thursday in February, April, June, August (Board Meeting & Leadership Meeting, typically on a Friday), October, and December.
Time: 6:00 pm – 8:00 pm
December 7, 2023 (Virtual via Zoom)
February 1, 2024 (In Person) at LA DWP
April 4, 2024 (In Person) in Camarillo hosted by Santa Barbara/Ventura Branch
June 6, 2024 (Virtual via Zoom)
August 2024 (In Person) Board Meeting & Leadership Meeting; Location TBD
Everyone is welcome!
For the Board Meetings that are held via Zoom, please email Gayle Stewart at gstewart@gsecorp.org for the join link if you would like to attend.